Dual Monitor Software
MurGeeMon is a Dual Monitor Software utility for Windows Operating System. The Dual Monitor Software presented here allows you to control your multiple monitors (change primary monitor to external monitor connected to laptop or desktop or vice versa, disable secondary monitor, enable secondary monitor, etc) in an easy and quick way. The Software Utility can be used to change background of any selected monitor easily instead of forcing one wallpaper across your whole desktop (which can encompass more than one monitors). Now you can also change resolution of multiple monitors using a desktop shortcut or with a single click, just another functionality which can help you utilize the power of your dual or more number of monitors connected to your windows computer.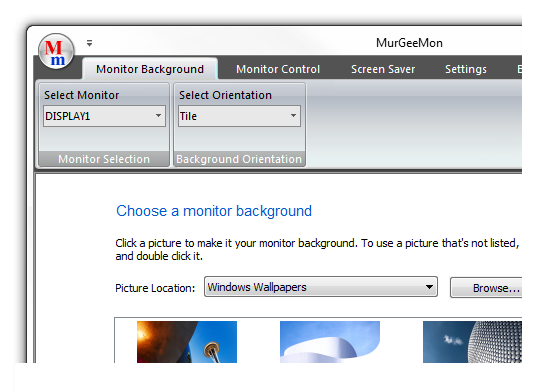 Explore features of the Dual Monitor Software specific to Windows 7. The Dual Monitor Software offered here has many Windows 7 specific features which will allow you to control Dual Monitor or any other type of display connected to your Windows 7 Computer. The Windows 7 specific features will not be visible on Windows XP or on Windows Vista. Current features available on Windows 7 allow to switch from Clone Mode to Extended Mode (and vice versa) by launching Shortcut or by pressing Hot Key on Keyboard. Yes extra features of this Software available for Windows 7 are also available for Windows 10, Windows 8.1 and even for Windows 8.
Once Free Trial of the Software Usage Expires, you can pay USD 9.99 and use it for upto 3 Months from the Date of Payment on 1 Computer running 32 bit or 64 bit versions of Windows. The Download provided is a 32 bit download and it would work fine on 64 bit Windows operating system running Windows 10, Windows 8.1, Windows 8, Windows 7, and other Windows Operating Systems as well.
Current Version of MurGeeMon supports upto two Monitors / Displays. You can easily change monitor background for upto two Monitors connected to your computer, control external monitor connected, Change Primary Monitor, Lock Mouse Cursor On a Monitor, Move Mouse Cursor across Monitors with HotKey, Move Window across Dual Monitors , and more.
The Dual Monitor Software comes with an add-on to Change LogOn Screen Saver . The Add On also allows to disable logon screen saver. Use MurGeeMon to completely control your dual monitors with ease.
The Dual Display / Monitor Software Utility has the latest graphical user interface (i.e. Ribbon Style Interface). The first and default tab of MurGeeMon allows you to change selected Monitor background or wallpaper. The second tab allows you to control your monitor settings or control power state of monitor(s). The System Tray Menu offers to Enable or Disable Primary or Secondary Monitor(s), Create Dual Monitor Shortcut with which you can control your dual monitors using Shortcuts on Desktop or Configurable Shortcut / Hot Keys with ease.
Download free trial version of MurGeeMon Software Utility Now and find out whether it can be really helpful for your dual display computer setup running Windows Vista , XP or even Windows 7. You can even download or view a pdf file and know more about the Dual Monitor Software and know more about the windows software.
Download and Set Wallpaper on Primary or Secondary Monitor
Downloading Wallpaper from internet is really quick with this Dual Monitor Software. Download Wallpaper and set it as background image for primary or secondary monitor easily.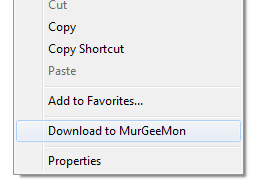 Navigate to the desired wallpaper using Internet Explorer.
Right Click on the image and select Download to MurGeeMon.
Now select MurGeeMon Pictures in the Monitor background tab to view the wallpaper images downloaded.
Click on any of the thumbnail image to set as wallpaper for Primary or Secondary Monitor.
Change Wallpaper for Dual Monitor Computer
MurGeeMon extends Windows Wallpaper functionality from changing desktop background to monitor background. Now by using MurgeeMon you can select any available / supported image as background of a given computer monitor. The Monitor Selection can be done easily, and once Monitor selection is done from the drop down, just select any image to set it as the monitor background.
How to Change Monitor Wallpaper
Given below procedure outlines the procedure to change a selected monitor background using MurgeeMon. As of now MurGeeMon can be used to change monitor background of at max 2 computer monitors connected to a computer. The Monitor selection combo box will list at max 2 computer monitors only.
Download and Install MurGeeMon, during installation procedure select the option to create a Desktop Shortcut to MurGeeMon.
Launch MurGeeMon (Dual Monitor Software) from the Desktop Shortcut, Quick Launch Bar or from the shortcut in the Programs Menu.
MurgeeMon Software Utility will take few seconds to load and display it's main screen.
Once the main screen of the dual display utility is visible and is able to accept user input, notice bottom right corner of the software utility.
The bottom right pane displays the number of monitors connected to your computer, this should show Connected Monitor(s) Count : 2 in case you have dual displays connected to your computer.
Now have a look at the top left, order of the screen below Monitor Background Tab, there you will find a monitor selection combo box.
Select the desired monitor / display, and then click on any of the given below images, and your selected monitor background will be changed to the image you clicked just now.
Browse the monitor background section and use the desired sold color or image and once done click on OK to close MurgeeMon application and apply the desired background.
In case you would like to discard your changes to the desktop or monitor background, just click on Cancel button to close the application and discard your new wallpaper selection.
Desktop Background referred above means all monitor backgrounds combined together.
Dual Monitor ScreenSaver
Now you can configure two ScreenSavers to be displayed on your two Monitors with this Dual Monitor Software. The Version 1.7 contains a ScreenSaver which can be configured to display selected screensaver's preview on the selected monitor. In Order to active the Dual Monitor ScreenSaver, just navigate to the ScreenSaver Settings and configure individual screensaver for individual monitor.
Enable / Disable Primary or Secondary Monitor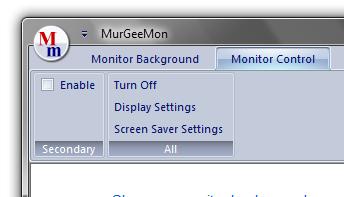 Control Power of Monitor without looking for power buttons on Computer Monitor. MurGeeMon allows you to control power of Secondary or All Monitors connected to your computer. Secondary Monitor Power can be controlled with a simple checkbox to enable / disable secondary monitor.
Useful Display Settings can be launched from easy to follow graphical user interface irrespective of the windows operating system you are using. Display Settings and Screen Saver Settings can be launched with a single click on the graphical user interface of MurGeeMon easily and quickly.
Do have a look at our Monitor Control document which outlines functionalities offered by the Dual Monitor Software for controlling Dual Monitors such as Enable or Disable Secondary Monitor, Lock Mouse on one Monitor , Move Mouse Cursor across Dual Monitors with shortcut key, Change Monitor Orientation to Portrait or Landscape mode and other features to control your dual monitors with ease.
Enable / Disable Dual Monitors Quickly and Easily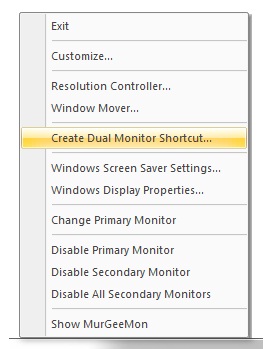 Use the system tray menu to quickly enable / disable dual monitors connected to your computer easily and quickly. Change Primary Monitor, Enable or Disable Secondary Monitor are few of the functions provided in the dual display / monitor software download. Whether you are connecting an external monitor to your laptop or to your desktop, whether you are using Windows Vista or even Windows 7, this software download can be of use to you in many ways. Control Monitor power without touching buttons provided on your monitor by enabling / disabling the specified monitor. Change primary Monitor easily from primary display to external monitor (when using the extended mode) easily and quickly.
Controlling Power of Primary / Secondary Monitor in a Dual Monitor Computer System allows you to use your computer system quickly and efficiently. Controlling your Primary / Secondary Monitor was never so easy. Download MurGeeMon now and get complete control on your Dual Monitor Computer System.
---